Romeo y Julieta is a burlesque of William Shakespeare's play, Romeo and Juliet. The film was a critical failure at the time of its release--critics called it "gross", "vulgar", and funny only to people with "limited mentality".
Positive Thoughts
There isn't much for me to say but, I enjoyed this movie! I laughed. For the most part, I was able to keep up with the film because I'm familiar with William Shakespeare's play. I don't have a single negative comment.
María Elena Marqués played 'Julieta' [Source]
Overall Thoughts
Title page of the first edition of Romeo and Juliet [Source]
I wasn't shocked to learn about initial reviews of Romeo y Julieta. William Shakespeare and his works are highly revered worldwide, and its just one of those things that shouldn't be trifled with, or at least that's how most people feel about it. However, again, I enjoyed this take on Romeo and Juliet. It was different, and that alone made it refreshing, I think. When watching the film, you'll see that creators didn't intend to mock or bash Shakespeare's play.
This candid photo of Cantinflas is from NBC Latino. He played the role of 'Romeo' in the film.
Miguel M. Delgado & Jaime Salvador
In my viewing and reviewing of
Gran Hotel
, I became curious about the similarities between "Cantinflas'" view of the upper class/social elite and Mario Moreno's views. Since then, I've realized that while Cantinflas' performances made him a voice for those without a voice in Mexico, I've also been overlooking two people who may hold answers to my curiosities--writer/directors Miguel M. Delgado and Jaime Salvador.
Writer/director Miguel M. Delgado [Source]
According to Wikipedia, Miguel M. Delgado directed (and sometimes co-wrote) thirty-three of Cantinflas' films. Jaime Salvador wrote the screenplay for many of his films, also. Three out of four of the Cantinflas movies I've viewed were directed by Delgado (
Romeo y Julieta
,
Gran Hotel
, and
El padrecito
) and two out of four were written/written for the screen by Salvador (
Romeo y Julieta
and
Gran Hotel
). Realizing this now, it makes me curious about Delgado's, Salvador's, and Moreno's (Cantinflas) precise views on class differences--the common ground, the individual differences.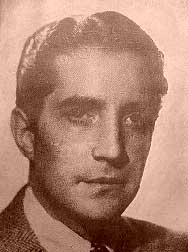 Writer/director Jaime Salvador [Source]
How did they interact before starting a film? Was Romeo y Julieta simply a funny homage to Shakespeare and Romeo and Juliet? Was it their way of trying to un-stuff some of Shakespeare's stuffiest fans? Was it both? Did these men--both individually and as a group--just want to tell stories? Did they intentionally set out to make the rich/elite uncomfortable? Both? Neither? I have so many questions! And I know many of the answers lie in the works of these men!


************


Any and all Cantinflas, Miguel M. Delgado, Jaime Salvador, and/or cinema experts and fans, feel free to leave comments and thoughts!