Below are links to ten historic entertainment news articles:
St. Petersburg Times - July 29, 1945
Famed columnist Louella Parsons didn't seem too enthusiastic about Merle Oberon's marriage to cinematographer and DP, Lucien Ballard. This union was Oberon's second marriage. Click the link above to read the article.
The Nevada Daily Mail - September 20, 1960
Cantinflas with Bing Crosby in Pepe (1960) - Source
Just as the article's title says, comedy legend, Cantinflas, explains to Hal Boyle what makes a good comedian. He also explains why he never took on a "serious role".
Ottawa Citizen - February 23, 1954
Accompanied photo in Ottawa Citizen
Radio and television editor for the Ottawa Citizen, Claude Hammerston, made a trip to Toronto just to interview the legendary Ethel Waters. He had a nice chat with her about her career, her opinion on television, her religion, and more.
Toledo Blade - December 31, 1967
James Wong Howe celebrated his 50th year as a Hollywood cinematographer while shooting The Heart is a Lonely Hunter (1967) in Selma, Alabama.
Palm Beach Daily News - December 26, 1954
Even at the age of 26, Eartha Kitt had a confidence, frankness, and maturity that was well beyond her years. Click the link above to read her rags-to-riches story as originally told to the International News Service.
The Afro American - February 4, 1933
Accompanied photo in The Afro American
Ernest "Sunshine Sammy" Morrison not only told The Afro American how he got his start in movies, but also how he got the nickname "Sunshine Sammy". He also talked about his love for the stage and what (at the time) kept him from returning to Hollywood.
The Afro American - August 28, 1937
Singer/actress Theresa Harris was a busy woman in 1937! Not only did she appear in four films released that year (one, Bargain with Bullets, aka Gangsters on the Loose is mentioned in the article), but one could also hear her voice in a radio adaptation of One Mile from Heaven.
Schenectady Gazette - June 20, 1987
Click the link above to take a short journey through Fayard and Harold Nicholas' 50-year career in show business.
The Gridley Herald - November 19, 1924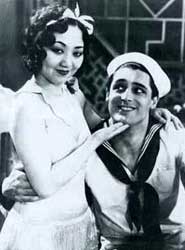 Anna Chang pictured with Cary Grant in Singapore Sue (1932) (Source)
The Gridley Herald reported that the "Chinese Songbird of San Francisco", Anna Chang would be joining Irving Berlin's Music Box revue in Spring of 1925! Get all of the details in the link above.
Washington Afro-American - January 24, 1950
After spending ten years in Texas making independent pictures,
Spencer Williams
made his return to Hollywood in 1950. It's possible that he was returning to prepare for his new role in the
Amos 'n' Andy
TV series. Click the link above to view the small news story!
************
I hope you found this installment of "That's Old News!" to be very informative! :)