Broken Strings (1940) was the featured film for the week of May 19th-26th.
************
*Epilepsy Warning:
Use of animated GIF images near bottom*
************
"After noted violinist Arthur Williams (Clarence Muse) suffers a hand injury which ends his playing career, his hopes are transferred to his son (Johnny, played by William Washington), who prefers swing music to classical." [IMDb]
************
Oh, the many race movies I've watched and thought "all it needed was a bigger budget..." This was the case with Broken Strings. The story wasn't new: classic/classical music lover hates the more popular music of the time; child wants to play that popular music. But different elements, such as, the instrument used (violin), secondary stories, and I'll say it--an all-black cast--gives the movie a special spin.
************
Story/Writing
Again, the storyline was simple, not exactly something fresh and new to the screen (a film with a similar storyline I can remember off the bat is 1938's Everybody Sing). However, the secondary storylines are what really "make" this movie--especially the ones that formulate after Arthur's hand injury. There's stubbornness, disobedience, jealousy, framing, deceitfulness, and even with all of this, the movie manages to not turn into something you'd see in a Murder-Mystery Dinner show.
Nobody gets murdered, by the way.
Of course, all of those elements and additional storylines would require more time--and Broken Strings didn't have that, which serves as a negative for the film. Everything is rushed and jam-packed to this 60 minute movie, leaving very little time to let things cook before they're uncovered! Very unfortunate.
Characters/Acting
There wasn't one character that this film could have done without. Every major character had a purpose. As far as the acting goes, I'm going to come right on out and say that the only good actors in this movie were the more trained and seasoned ones--Clarence Muse, Matthew "Stymie" Beard (as Dickie Morley, a young, aspiring, but pompous violinist), and Edward Thompson (who is barely even in the movie).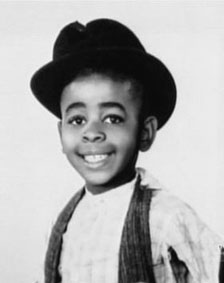 Young "Stymie" Beard
Everyone else...William Washington,
Sybil Lewis
(as Arthur's daughter, Gracie),
Tommie Moore
(as young pianist, Mary)...they all needed a little work.
************
Honorary Mentions
It's always a treat to see Ms. Ruby Dandridge, who plays a small, but memorable role. Ironically, when Ms. Dandridge first came to Hollywood with her daughters in the early 1930s, she sought counsel from Mr. Muse on getting her daughters (Vivian and Dorothy) into movies.
************
If you look very closely in one of the nightclub scenes (in fact, you don't even have to look closely, her face is unmistakable), you'll see the late Juanita Moore sitting down from a dance.
************
The Stevens Sisters
These talented little ones appear near the end of the film. I made animated GIF photos of them!
(Left to right): Charmaine, Cecile, Leonetti
The girls are singing a song called "Kentucky Babe"
Charmaine and Leonetti tap dancing
Little Cecile tap dancing
*I wonder where The Stevens Sisters are today?*
************
Directing/Cinematography
For the most part, Broken Strings was simply shot, but there were some cool effects added to keep the audience's interest--some Busby Berkeley-like kaleidoscope effects, tilted camera movements, faded images in the background--all things used to give the movie a "fantasy" feel. They also helped to create the sense that time was flying by (as if the movie needed any more of that).
They didn't go overboard with these effects, either.
************
Overall Thoughts
I highly recommend that you watch Broken Strings. Bad acting aside, it is very entertaining. In fact, it ranks pretty high on my list of great race movies.
*Broken Strings (1940) on YouTube*
(Animated GIF images created from ^this^ link)