Beulah (TV Series) was the featured "movie" for the week of Feb. 24-Mar. 3.
A comedy series of a family with the central role pointed to their maid (Beulah) who pulls the weekly family situations together with more common sense than all of the other family members. [IMDb]
The (TV) role of 'Beulah' was portrayed by three different actresses throughout its three season run--first by Ethel Waters (1950-1951), then by Hattie McDaniel (1952), and finally by Louise Beavers (1952).
I watched two episodes of Beulah on Youtube: "The Waltz" and "Beulah Goes Gardening". Both episodes starred Hattie McDaniel.
(Original Air Date: August 5, 1952)
The Hendersons (David Bruce and Jane Frazee) are concerned when Miss Matilda (Anne O'Neal), the instructor of Donnie's (Stuffy Singer) dance class, reports that their son is a awkward klutz and the girls had to draw straws to see who would have be his dance for the annual dance recital. Beulah (Hattie McDaniel) and Bill (Ernest Whitman) offer to show Donnie a few of their dance steps and soon Donnie is dancing the jitterbug with confidence and panache. Unfortunately Donnie's date cancels at the last minute and the date Beulah finds for the youngster stands a full foot taller than the 10-year old. To make matters worse, Donnie's new jitterbug skills don't translate well to waltzing. [IMDb]
Hattie McDaniel in 1941 (Wikipedia)
You know, this is the first episode of
Beulah
(radio or television) I've ever watched (or listened to) and I really enjoyed it. It was kind of cute in a typical 1950's family sitcom, kind of way. The kind of show that makes you think about Little Debbie snacks, Wonder bread, vintage Coca-Cola advertisements, and mint green colored ice cream trucks. There's nothing about this episode that I disliked in particular. I must also add that Ruby Dandridge plays the role of 'Oriole' (the maid who works in the house next door) and appears in this episode for a few minutes. Her scene pulled the most laughs from me.
"Beulah Goes Gardening"
(Original Air Date: August 12, 1952)
In an effort to save money, Harry fires his gardener and divides his tasks amongst the rest of his household--he'll mow the grass, his wife will water the lawn, and his son will weed the garden. Of course, the Hendersons all have previous engagements and Beulah winds up having to do all their outdoor chores. The health of Harry's prize rosebush is her biggest concern--it's doing so poorly that she and Bill dig it up and take it to the local garden shop for analysis--but the plant is accidentally sold to another customer. Now Beulah must find a suitable replacement before Harry notices his favorite rosebush is missing. [IMDb]
I literally "laughed out loud" while watching this episode of Beulah, but at the same time, the episode caused me more discomfort than "The Waltz". As described in the summary above, t
he family makes plans to do their own gardening, but Beulah is eventually left to do it herself. Not only does Beulah fall behind in her usual work, but she also begins to stress over the responsibility THAT ISN'T EVEN HERS. She practically beats herself up for not being superwoman and when the family (especially the husband) catches a glimpse of Beulah's
humanity
mistake, they become 'this' close to chastising her like a teenager who went out before washing the dishes.
However, as always--I can only review and critique. I cannot go back in time and change things. In the end, Beulah does reassure the family that's she's still their dutiful Negro servant with a smile, eight arms, and a pocket full of heartwarming quotes.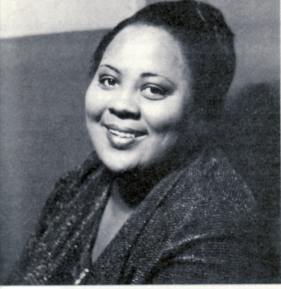 Louise Beavers took over the role of "Beulah" when Hattie McDaniel fell ill. (Photo Source)
************
Overall Thoughts
For me, the only negatives about this show are, of course, the "happy-go-lucky Negro" thing it had going on and the "lazy Negro" (Beulah's husband 'Bill', played by Ernest Whitman) stereotype. Beulah and the previously reviewed Amos 'n Andy were on television around the same time and AA's 'Kingfish' was also a "lazy Negro" type. Two big shows with an all/predominantly black cast and both have prominent characters who hate working. Coincidence? Hmph.
However, I think that if one is able to push through often-seen "Beulah" and "Bill" types, they just may be able to enjoy this show. A commentator on "The Waltz" episode said that the character/show reminded them of Hazel and I just may have to agree and as stated
stated earlier,
Beulah
is
so
"1950s family sitcom" with its quaint neighborhood of happy, peppy people and small families, and if that's your thing, go on and give the show a whirl. I do plan to watch more episodes.
Also: I was tickled pink to see "Starring Hattie McDaniel" at the beginning of the credits ;)
************
Watch
Beulah
on Riverbends (Youtube)