From EpGuides, Tim Moore (top), Spencer Williams, Jr. (bottom left), and Alvin Childress as Kingfish, Andy, and Amos (respectively).
This week, I watched two episodes of the short-lived television series, Amos 'n' Andy, starring Alvin Childress, Spencer Williams, Jr., and Tim Moore.
I watched the first episode of the series, titled Kingfish Gets Drafted.
In this episode, George "Kingfish" Stevens is wrongfully drafted into the Army. Of course, upon receiving the notice, he knows a mistake has been made, but Army officials assure him that he is the George Stevens they're looking for. Kingfish, fearful and upset, goes to tell his wife, Sapphire (played by Ernestine Wade) the bad news, but surprisingly, she is happy for him--she assumes that he actually enlisted and refers to him as "her hero". The entire neighborhood hears the news and celebrates, leaving Kingfish no choice but to pretend that he really is going away. Of course, comedy ensues.
I literally "laughed-out-loud" while watching this episode. You may be turned off a bit (like I was) by what seems like fake and forced laughter from the audience, but it won't take long before the laughter goes unnoticed. The episode was cleverly written, the comedic timing was seamless, and all performances were great. There really isn't much more I can say about the episode--I absolutely loved it.
Next, I watched Kingfish's Secretary. I'm not sure if this was the second episode of the series or not. Some sites, like IMDb, have it listed as the second episode, while others do not.
In this episode, the lodge (that Amos, Andy, and Kingfish are members of, by the way) makes some renovations and even hires a secretary named Daphne (to my surprise and joy, played by the multi-talented Jeni Le Gon). Upon learning about the new secretary, Sapphie Stevens' claws come out and she lets Kingfish (and later, the unknowing Daphne) have it.
Also, in this episode, a lodge member comes in requesting that Daphne take dictation for a letter to a mail-order bride he has his eyes on. Now, before this, Kingfish asked Daphne to take dictation for a letter to a cleaning service to hire a cleaning woman. When Daphne is out, Lightnin' (played by Nick Stewart) comes in to pay the lodge a visit. Kingfish, while lounging in his office, asks Lightnin' to bring him the letter for the cleaning service for him to sign. Lightnin' accidentally knocks the cleaning service letter in the trash and Kingfish signs the mail-order bridge letter!
Next thing you know, Henrietta Smith (played by Ruby Dandridge) comes barging into the lodge to claim her man, Mr. George Stevens. Again, comedy ensues.
Like the previous episode, I don't have much to say about this one. I literally "laughed out loud". The comedic timing of these actors is worthy of endless praise.
Overall Thoughts
Again, I enjoyed these episodes--so much so that I plan to either purchase the series on DVD or watch all of them online. The show was criticized for its negative portrayals (lazy Kingfish, jealous Sapphire) of Black-Americans, but the only thing that differentiates these characters from other characters in television and movies at the time was the color of their skin. However, here is the problem:
When Amos 'n' Andy aired on television, the only other show that featured a black cast (or a central black character, rather) was Beulah. Beulah was--what else?--a maid. When you have less than a handful of shows "representing" your race, of course you're going to be very critical of what you see. This is still going on today, actually (see varying opinions within the black community on shows like Scandal, Being Mary Jane, and Tyler Perry's shows). It's a shame that the show was cancelled so soon, because again, it was hilarious, but I'm not going to be "that person" who thinks that all of the controversy and complaints were unreasonable.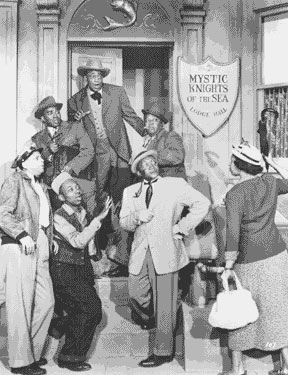 From TV Party--the lodge men taking cover against the wrath of Sapphire.
The only problem I had with the show (the two episodes that I actually watched), was the way in which the black female characters were written. In these two episodes, there were only four women--Sapphire Stevens, Sapphire's mom (played by Amanda Randolph), Daphne, the secretary, and Henrietta Smith. You would expect to see a wide range of personality among these four women, but nope--three of these four women were all domineering, rambunctious women quick to throw a punch and/or tear a man down. Now, to be clear, I don't think there's anything wrong with being a domineering and rambunctious woman, but when three out of four black, female characters in two episodes of a show alone are seemingly mean and unpleasant, I have to ask, "Just what did the writers think about black women?"
Also, again, jealous, domineering women were not new to television, movies, or radio by this time and they were played by actresses of different races, shapes, sizes, and ages
(see
Lucy is Jealous of Girl Singer
)
, but like I said, it's easy to be very critical of what you see of yourself on television when the choices are limited.
However, I highly recommend that you check out episodes of Amos 'n' Andy. Below are links to the episodes I watched this week.
I will be back later this week with a video review of No Way Out (1950).