There's a lot of conflicting information about who was the first African-American to sign a Hollywood contract, who was the first to sign a long-term contract, etc.--but based on my own little research, I've come to the conclusion that the following people were more than likely the true first "signers" of certain Hollywood contracts.
In 1915, the Biograph Company gave entertainer Bert Williams the power to produce, write, direct, and star in two films for them--A Natural Born Gambler (1916) and Fish (1916).
I couldn't find information specifically stating that Williams had signed any contract with Biograph, but n
onetheless, Williams being granted that kind of power in early twentieth-century Hollywood is a distinguishing feat alone.
I feel certain that
some
paperwork had to have been been made out between Mr. Williams and Biograph.
************
Born Nellie Crawford in Louisville, Kentucky, Madame Sul-Te-Wan is recognized as the first African-American performer to sign a contract in Hollywood and be a featured performer (meaning, she actually had some dialogue) as well.
Her first role was as a hotel cook in the 1915 short The Cause of It All. Her second (and most acknowledged) role was as "Dr. Cameron's Taunter" in the controversial D.W. Griffith film, The Birth of a Nation.
Madame Sul-Te-Wan worked in over 50 Hollywood films.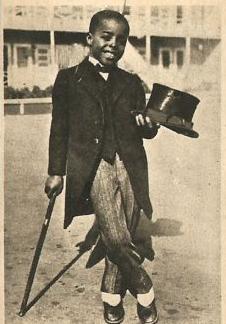 When Ernie "Sunshine Sammy" Morrison signed with comedy producer Hal Roach in 1919, he became the first African-American to sign a long-term contract in Hollywood--and get this: He was only six years old.
"Sunshine Sammy" would become most popular as one of the original Our Gang kids and as the only black member of the East Side Kids.
After rave reviews for her debut in 1929's Hallelujah!, Nina Mae McKinney signed a five-year contract with MGM, making her the first African-American woman to sign a long-term contract in Hollywood.
Sadly, like a lot of black actresses of the time, even a long-term contract couldn't secure the roles that Nina Mae wanted. She would find sweeter success in parts of Europe as a cabaret entertainer.
A Natural Born Gambler (1916)
(Warning: Offensive racial stereotypes and use of blackface)
Madame Sul-Te-Wan as "Tituba" in Maid of Salem (1937)
The Dippy Dentist (1920)
Starring Snub Pollard and "Sunshine Sammy" Morrison
(Go to 2:28 to see "Sunshine Sammy")
Pie, Pie Blackbird
(1932)
Starring Nina Mae McKinney,
Eubie Blake & His Orchestra, & The Nicholas Brothers