MGM's biggest money maker of 1937 stars Clark Gable and Jean Harlow (in her last film). Also in the cast are Lionel Barrymore, Frank Morgan, Walter Pidgeon, Una Merkel, Hattie McDaniel, and Margaret Hamilton.
After being given a stud farm in place of the owner's gambling debts, Duke Bradley (Gable) turns his eye to the now deceased gambler's daughter (Harlow) and her rich fiancee (Pidgeon).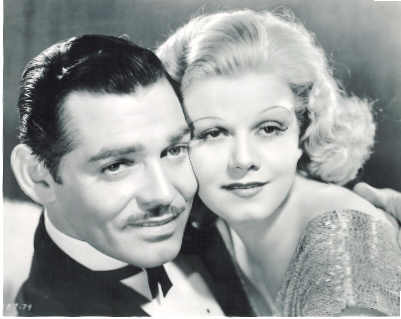 (Clark Gable and Jean Harlow)
According to IMDB, when the film was about 90% complete, Jean Harlow collapsed on set and died a week later of kidney failure. MGM planned to re-film with another actress, but due to the public's objection, her scenes were kept in the film and Mary Dees was hired as Harlow's double (shot only from behind) and Paula Winslowe supplied the voice.
Actor Lionel Barrymore also suffered an injury on set--he tripped over a cable and re-broke his hip just before the film wrapped up.
Sources
Gable and Harlow Photo from:
http://www.classichollywoodbios.com/Images/Jean%20Harlow%20Images/J.%20Harlow%20-%20Saratoga%20(1937).jpg.jpg